The new upgrade for the LG enV! The sophomore version is pretty stylish with a slimmer design than the previous and comes in black or maroon casings. A quick rundown: it has a keypad, Mobile Web 2.0, V CAST Music and Video, Bluetooth, 2 speakers, and a 2.0 megapixel camera.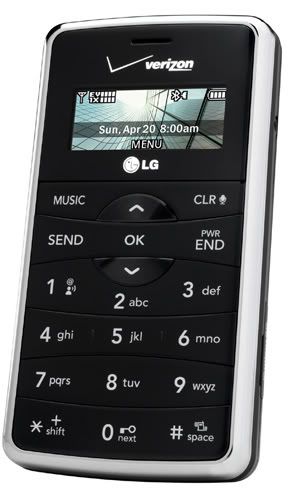 First of all, the enV2 is
a lot
slimmer than the previous version (about 15%). This was a great move on LG's part. Although less emphasis has been placed on the external display, which is primarily used for phone calls, the new design looks great with the compact exterior display and keys. It has a reasonably good 2.0 megapixel camera and camcorder with a very basic image editor. Inside the phone, the 2.4 inch display and QWERTY keypad is ideal for text messaging. Instant Messaging through AIM®, WL Messenger®, and Yahoo!® is a remarkable feature offered. Although the phone can browse the internet wirelessly, it's through Mobile Web 2.0. Not my first choice for a mobile browser. The phone does works great as a media player though, and it has a nice 8GB microSD card slot for music, pictures, and videos. Through Get It Now® you can "download games, ringtones, wallpapers and more."
Other "notable" features:

• Wireless Sync E-mail (BREW® e-mail Client) capability
• Supported Bluetooth Profiles – compatible with devices that support headset, hands-free, dial-up networking, advanced audio distribution (stereo), phone book access, basic printing, basic imaging, object push for vCard and vCalendar and file transfer
• Auto view and Text to Speech, so text messages can be heard aloud
• 1,000 address book contacts with five numbers, two e-mail addresses and a Picture ID for each entry (Picture ID is dependent on photos stored in My Pictures)
• Function Key – customizable for 10 shortcuts
• Up to 320 minutes of usage time or up to 520 hours of standby time
• Hearing aid compatible (M3/T3-Rating)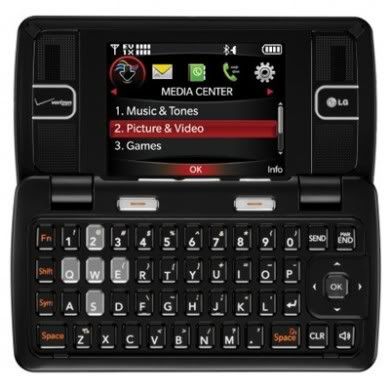 LG enV2 is already available at
www.verizonwireless.com
for $130 after a $50 rebate with a new two-year contract with Verizon.
[
2dayBlog
]