I wasn't really sure what this was when I first saw it. Possibly some Vista Merchandise? No... The more I looked into I found that it's not just a Vista sticker wrapped around it...it IS Vista.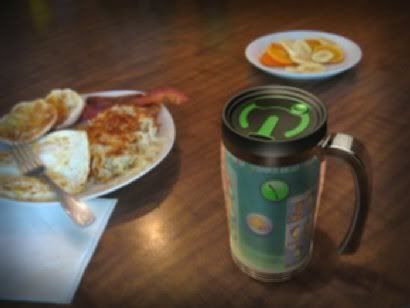 Wrapped around this coffee cup is a touch screen PC that runs Vista. So far, the mug sports Email, Weather, Traffic, Stocks, Comics, and Clock. Pretty nifty with that morning cappuccino. Supposedly, you can also display some personal photos as some kind of slideshow screensaver.
This design is still conceptual and has been brought to us by
Jason Farsai
via
YankoDesign
.