The N78 is a recent phone release by Nokia at the MWC.
"Sleek design, fully featured multimedia computer. Find your location faster with A-GPS. Automatically tag your images with capture location, and upload to the web to share with friends. Enjoy up to 24 hours of music playback, and share your music on your car or home stereo with the integrated FM transmitter. Carry your home images, music, podcasts and videos with you. Access the web more quickly and easily with 3.5G or WLAN connection."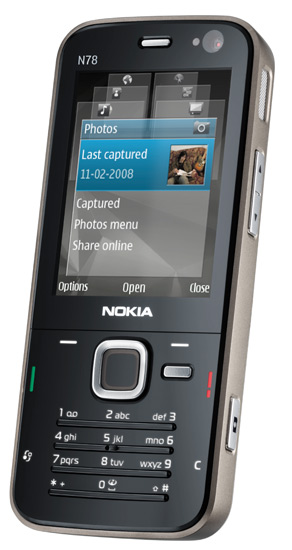 It comes with a nice 2.4 inch LCD color display with up to 16 million colors and a wide 160° viewing angle. The ambient light detector optimizes display brightness and power consumption.
Through Home Media Solution, you can synchronise your phone directly to your home computer. With this, you can immediately access content on your computer through the internet.
It is the first Nokia phone with an FM transmitter. You can tune your car radio directly to the N78 and playback the media on the phone. This is a much more convenient alternative to installing a media player compatible stereo system.
The 3.2 mega pixel camera with Carl Zeiss Optics and upload your images directly to the web through Share on Ovi. "Share on Ovi, one of Nokia's many Internet services, lets you store, access and share your photos, videos, and other media, either directly from your compatible Nokia device or via the Web. The free service provides a digital shelf for all your media and lets you instantly share what you want, publicly with the world or privately with friends and family. "
The phone also comes with a 2GB microSD card slot for extra storage space.
Finding your location and directions is no problem with the integrated A-GPS that works with Nokia Maps.
It's available in Pearl White, Cocoa Brown, and Lagoon Blue.
[more info coming soon]